Tucson Headshots Photographer
I have been doing portrait photography, in various forms, for over twenty years. I began offering head shots in Tucson, three years ago. It is a facet of my business that I have come to thoroughly enjoy! I love meeting new people and coming up with photos that not only defines their personality, but makes them look their very best! If you are not completely happy with your images, you do not have to pay me a penny.

Head Shot Photos
Headshots are portraits that concentrate on the upper body, from the shoulders to the top the head. Sections of the body, from chest down, are generally not included in the photos. See samples below.

People need head shots for personal use, such as high school senior photos, dating and social media sites or as business portraits and career related media, such as portfolios, websites, books, periodicals, business cards, etc. People of all ages, careers and walks of life have passed through my doors.
There are two ways I can take them for you. I can come to your home or business location and take them there, or you can do what most people do, which is to come to my home studio. I actually prefer to call it, my photo room. My photo room is somewhat unconventional, in that I do not work with standard traditional looking backgrounds. Instead, I affectively produce the same professional results, by using white walls and natural window lighting techniques. This process involves reflectors and gobos. It is a setting that feels very comfortable to my subjects.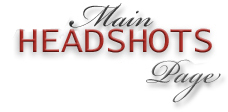 To schedule a sitting, call me at 520-744-2067, or just fill out this form.


48-hour turn around service is available.

Faces of Antonella
If you are looking for more than just a couple of great headshot photos of yourself, I can always take more. See NEXT page.